The church was erected in the 13th century. Our first written account that can be connected to the village church dates from 1333, the year in which the priest of Kylien paid the papal tithe, suggesting that the village had a church. The next phase of the construction history of the church occurred in the last three decades of the 15th century, when it gained a vaulted gothic style sanctuary with polygonal closure and traced windows.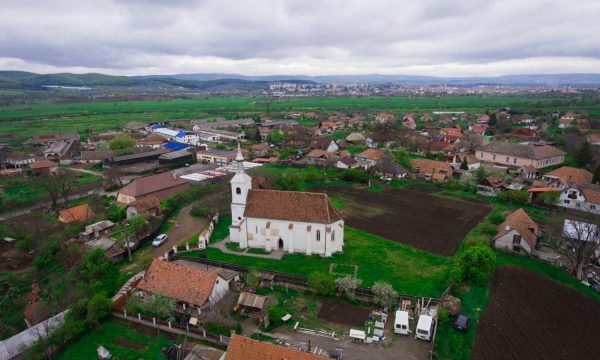 In the first decades of the 15th century the inner, as well as the southern and western external walls of the nave were decorated with murals. With the spread of Protestantism in the 16th century the wall paintings suffered alterations in a period during which the inhabitants of the village changed their religion first to Reformed and then to Unitarian, and both communities used the church. During these years they removed the interior furnishings and whitewashed the medieval murals.
The earthquake of 1802 damaged the building of the church. A part of the sanctuary's vault must have collapsed, and the remainder was demolished in 1804 and substituted with a painted coffered ceiling, as in the case of the nave. In 1829 a bell tower was built on the western side of the church nave. During this phase they placed the ornate keystone of the southern door frame above the western entrance, with the inscription 1497. This element was relocated to its initial place during the restoration works in 1994.
As a consequence of the damage dealt upon the Unitarian church of Chilieni by the earthquake of 1977, the building was in need of urgent structural interventions, which facilitated further archaeological research. Archaeologist Zoltán Székely opened 4 sections in order to gain as much information as possible about the building history, modifications and cemetery of the church.
The Gothic-style church visible today originated in the 15th century, but an earlier structure also existed, as indicated by the graves that the foundations of the building cut through. This earlier construction can be dated by a particular burial containing a skeleton with his forehead bearing traces of a greenish bronze material, probably from an S-shaped hair-ring. Such graves are generally dated to the late 12th – early 13th century. In another opened section a smaller, semi-circular sanctuary was also discovered, corroborating this idea.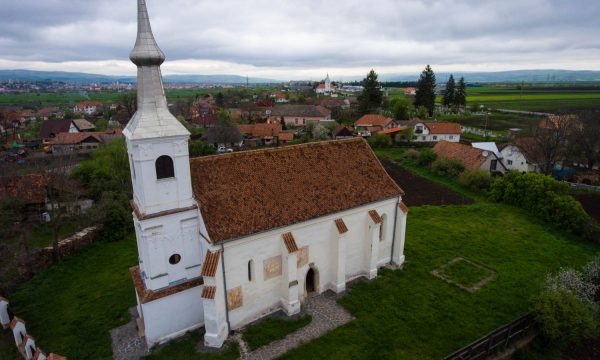 We have knowledge about another earthquake in 1471, which severely damaged this early structure. As a result of the maintenance works performed, the church was expanded and rebuilt in Gothic manner. The original sanctuary was torn down and a new one was built. A  sacristy was also added to the structure, on the north side. With the emergence of Reformation the sacristy was demolished, and in the 18th century a decorative coffered ceiling was added, thus the church gaining its present appearance.