Fizeșu Gherlii, a village from the medieval county of Doboka, first appears in written documents in 1230, under the name of Fizestelke, while the church and its parish is noted in 1332 in the register of papal tithes. The historical sources of the village are very minimal: it could have possibly belonged to the royal estate of Bálványosvár and they mention a priest from the village called Márton in 1520.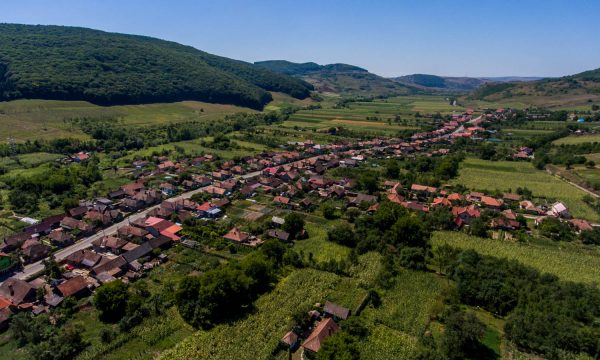 The population converted to the Reformed religion possibly in the middle of the 16th century. The Mongol invasions of 1658–1661 and 1670 destroyed and desolated the village and its surroundings. Following the catastrophe the church was renovated in 1675. Sadly enough, in 1930 the wooden tower constructed in the 17th century was demolished. In 1928 a new one was built, followed by the 1935 opening of two large windows on the southern wall, after the plans of László Debreczeni. The rectangle-shaped nave and the square shrine is typical to the region's village churches built during the Árpád dynasty. The edifice is generally dated to the second part of the 13th century. The three Romanesque stone frames on the southern wall and the semicircular arch in the interior are without a doubt from this period. It might also be possible that the monstrance and the cinerary located in the shrine date from the aforesaid era as well. The tombstone decorated with a cross patée walled up later in the southern wall of the nave dates from the end of the 14th century.
In the mid-15th century the shrine was vaulted. Although the vault collapsed, the corbels remained in their original location and the keystone has also been discovered in 2015 in the southern wall. The western and southern arched entrances of the nave and respectively the bigger windows on the western wall, with stone frames, also date from the 15th century. There are two later additions from the 17th century, appearing after the restorations following the Reformation and the Mongol invasion: the 1675 inscription on the southern wall of the shrine and the painted coffered ceiling. The spectacular coffer is the work of two carpenters: Mihály Asztalos from Ecsed and Mihály Asztalos from Fogaras. The painted altar table is from 1712, while the painted and carved wooden pulpit originates from 1719. The carved parapet of the staircase shows the painted figure of Moses, and was dated to the early 19th century.